This post may contain affiliate links, which means I may receive a commission, at no extra cost to you, if you make a purchase through a link.
Happy Friday Yogis! I hope you have had a good week!

Over the past few months when I have had some time to work on my yoga business not related to scheduled classes or, I would say to myself, "well, I can work on this or work on that," but then ended up wasting hours scrolling mindlessly on social media and getting nothing accomplished! Can anyone relate??? I thrive on structure and realized I needed to buckle down, get organized, and Make Things Happen. Although providing content on different platforms continues to be a learning process for me (and there is still SO much to learn), I now have a plan for creating quality content for all of you lovely yogis, a schedule to follow, and most importantly I am motivated and excited to see where this goes. If there is something you would like to see or pose you would like me to demonstrate, please let me know!
This week's Yoga in Pajamas pose is a great one! If you literally just want to spread out and relax, this is the pose for you! If you want to, you can extend your restorative practice a bit by spending 5-10 minutes in a Supported Child's Pose (see last week's post) and then move into this week's pose. I would recommend holding this pose for 5-10 minutes on each side and then lie flat on your back for a few minutes to allow your spine to rest in a neutral position.
Supported Reclined Twist
PROPS: 2 bolsters (or pillows) and 2 blankets
I may have hung out a little bit too long in this pose as I was preparing the photos! As soon as I laid down and positioned the props just right, a feeling of deep relaxation washed over my body. I felt like I could stay for hours….and that's the point, isn't it? Ahhhhh!
Twists are great for helping to release the spinal rotators and supporting digestion. I also like how this pose opens up the front of the chest and shoulders.
Please take your time setting up the props for this pose. Make sure your extended leg and the opposite shoulder feel completely supported (if necessary add additional props). One of the key things about restorative yoga is you want to be able to completely relax. If you are uncomfortable, you won't want to stay in the pose and it will be harder to let go.
Can we talk about these pajamas for a bit? I just love them! One thing you should know is I am super particular about my clothes and I will only share with you items that I think are of great quality and worth purchasing and these pajamas are great! The material is so soft and comfortable, perfect for warm summer nights, lounging, and of course for doing your "rest" yoga! The shorts have an adjustable drawstring and the shorts have a darling little ruffle on the bottom edge.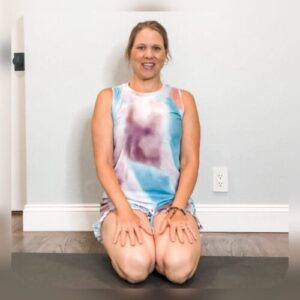 For size reference, I am wearing a medium which is my typical size. However, if you are in between sizes I would size up.
Let me know in the comments below, how Supported Reclined Twist feels for you!
Be Well Yogis!
Nicole